Happy birthday, Baby S!
I wrote about Patrece's gorgeous maternity session a couple weeks ago. When we were talking, it almost sounded like this sweet little nugget might come a couple days later! Patrece and I stayed in touch, and man, I really thought she'd go sooner. But she made it all the way to the day before his due date.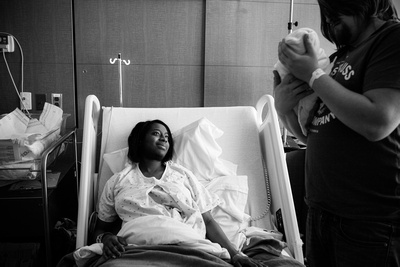 Baby's dad, Tommye, texted me Monday morning to tell me Patrece was almost ready. I anxiously finished my work day and hit the road to Norman. I was so hoping I'd make it in time to really welcome this precious guy into the world. Little did I know he came pretty fast!
This sweet new family had just moved up to the Mother/Baby suite of
Norman Regional Healthplex a couple hours before. Though I was sad to miss the big show, I was so happy they got some time to take in the excitement and bid farewell to their visiting family.
I spent three hours with this precious crew. I'm glad I didn't start offering this until I became a mom. It felt so important to me, and it was exciting to be able to remind Patrece with some authority "It's OK, and you're doing great."
Guys, she really was. She claimed she was nervous and scared she'd hurt that precious baby (what new mom isn't? They're soooo tiny and fragile-looking). But physically, she handled her son with calm confidence.
Daddy was doing great, too. When I got there, Baby S woke. He got up and comforted his son as if he'd been doing it his whole life.
The pair looked at Baby S like he was absolutely priceless. He totally is.
At one point during skin-to-skin, Patrece drifted to sleep. I know that sleep- it's the most amazing sleep you get. Your body, mind and soul know this is exactly the way things are supposed to be. I cried a little during this visit. Patrece looked so beautiful. She was maternal perfection.
Baby S seemed pretty content there as well.
I raced home afterward- it shook me a little to think of how few days had really passed in my own son's life, yet he was already so big. Baby S outweighed Tucker at birth by 5 ounces. Looking at Tuck now, it's hard to believe he was tinier than him!
Without further ado, I present a black-and-white selection of my favorites from this sweet Fresh 48 (or rather, Fresh 4! :)